15 Best video editing applications Android 2021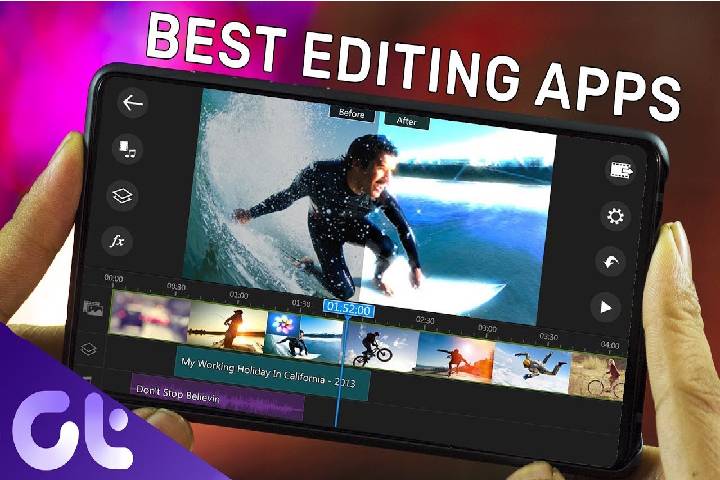 In this article, we are going to compile the list of the 15 best applications to edit videos from your Android and IOS operating systems making it easier for you to make your clips and add videos, photos, transitions, filters, subtitles, music, and share them with your friends and your social media accounts. So let's get right to the article to the list of best video editing apps for Android to edit videos on your mobile phone.
1.  Viva Video – The most popular video editing applications for Android
Price: Free/ $0.99 – $59.99 per item
Viva Video has over 200 million users worldwide; this app is one of the best to edit videos and record videos on your mobile phone. The features include an easy simple-to-use interface allowing you to cut and join videos; add filters, texts, and transitions. With more than 200 effects and animated stickers for the creation of videos, this app is one of the top video editing apps.
Download Viva Video for Android
2. TikTok- Best mobile app to edit short videos
Price: Free / $0.99 – $249.99 per item
TikTok, a video editing app became a global sensation for mainly short videos. Initially, the main focus was on music videos, where people were seen dancing and dubbing their favorite songs. Today, TikTok is mainly used to make videos ranging from pranks to viral videos. The app has a very big music library which I personally like when I'm making videos.
3. Kine Master – Multi-tracking video editor
Price: Free / $0.99 – $39.99 per item
Kine Master has the complete package to make videos on your cell phone with a multi-track schedule with built-in assistance for trimming clips and videos and allowing you to upload different types of media files onto your device. This app provides a wide range of tools to improve the video quality of your videos by adding transitions, texts, voiceovers, and many more such features. In conclusion, many users are fond of this app to edit videos on their Android phones.
Download KineMaster for Android
4. Power Director – Fully- Featured App for editing and making videos
Price: Free / $0.99 – $39.99 per item
Power Director is an app to edit videos on your mobile phone and that does of great quality. You can easily import and edit videos, add effects and titles, export HD videos directly to any of your social media networks such as Facebook or YouTube. Power Director has some of the advanced editing features such as Chroma key, blue or green screen, and PIP video overlay.
Download Power Director for Android
5. InShot – Best video editing app for Android
Price: Free / $0.99 – $29.99 per item
InShot is the best app to edit music videos and edit photos. You can add music to your videos by adding your voice or beats or can you can simply upload from the InShot featured music. The app has over 55+ transitions available on the app to make your videos more visuals from a film.
Also Read: Tips for recording videos on your smartphone
6. Quik – The GoPro video editor
Price: Free / $1.99 – $49.99 per item
Quik is an app for smart video editing. It is adept at selecting the best moments of your videos, adding transitions, effects, and even music to them. It is commonly used by GoPro users to compile their best clips.
7. Magisto Video Editor – Incredible application to edit music videos on mobile
Price: Free / $0.99 – $200.00 per item
This editing app for Android is mainly used for music videos. It allows you to quickly share your creations with your family and friends through Facebook, Instagram, and other social networks. What I like most about Magistro is that it transforms your photos and videos into a masterpiece of music 24/7. If you choose the "movie editor style" option, Magisto automatically stabilizes your video and consists of facial recognition, filters, video effects, nice transitions, and other elements that optimize your clip.
8. Adobe Premiere Rush – Great application to make videos
Price: Free / $4.99 – $34.99 per item
This is one of the popular Android video editors. It also has a version for Mac. This app can edit videos quickly and it's straight forward you just need to choose your clip, select the music. If you want to make it a bit more sophisticated you can reorder the scenes, add transitions and visual effects. It is also very easy to share your videos with your contacts through Facebook or YouTube.
Download Adobe Premiere Rush for Android
9. Video Show – All-in-one Video Editor
Price: Free / $0.99 – $179.99 per item
Video Show is an application that offers excellent mobile video editing functions. You can easily create a video with photos, music and even enhance your videos with special effects, texts, GIFs, stickers, multi-music, photo filters, transitions, sound effects, and live dubbing. Everything you want to have in a video can be achieved in this app in a creative and personalized way.
Download Video Show for Android
10. Vid Trim Pro – Basic and advanced functions in one application for editing videos
Price: Free
This video editor app has gained a lot of fame because of it is available for all platforms including multiple functions such as trimming, merging, frame capture, video effects, audio extraction (convert to MP3), and transcoding (compress and convert to MP4).
11. YouCut – Video Editor with no Watermark
Price: Free/ $2.99 – $12.99 per item
YouCut is the only app out there that has no watermark so you can make and edit videos without any hassles. Most of its features are free to use and it is perfect for newbies with its easy navigation and user-friendly interface. There are no intrusive advertisements when users are on the screen, a truly sound video editing app. Apart from editing videos, users can also join and combine videos without worrying about losing the quality of their videos.
12. ActionDirector – Complete Video Editing App
Price: Free / $1.99 – $24.99 per item
ActionDirector, this application allows users to add action movie effects to videos in slow motion or fast with spot-on speed controls and adding their own background music. Editing videos on your mobile is just like editing videos on a desktop, there is no difference.
Download Action Director for Android
13. AndroVid Video Editor – Seamless for its basic functions to edit videos on Android
Price: Free / $1.69 – $9.90 per item
To cut, trim, edit and add music you will need AndroVid video editor as your professional guide. The app allows you to add text, frames, and effects to your videos. It also has the option to convert any video from mp3 for absolutely free. You can add many effects to your video such as fades, swaps, and speed up / slow down features to make your videos livelier. You can choose the frames for your videos on the preview screen and create beautiful presentations with music and special effects.
14. Video Maker – Video editing App with Trendy Music and features
Price: Free / $1.99 – $99.99 per item
It is a video studio application for Android that offers you plenty of options to edit, trim and add multimedia files. The tool's slideshow maker is remarkable offering automatic or manual effects for each image.
Download Video Maker for Android
15.Movavi Clips – Best Video Editor for Slideshows
Price: Free / $0.99 – $21.99 per item
Movavi Clips offers a range of services from video editing, creating engaging stories, audio readjustment, to creating amazing slideshows with music tracks from its extensive library for your photos and albums.
Download Movavi Clips for Android
For sticking on right till the end of the article, here is a bonus one!
16. FilmoraGo – Best Free HD Video Editor
Price: Free / $0.99 – $34.99 per item
FilmoraGo is a very easy-to-use video editing app for film directors and also for beginner users. You can add amazing video effects, including multiple texts to your videos and photos, and add over 200+ emojis, stickers, GIFs to improve your videos. FilmoraGo has a library of over 1000+ music genres for users to apply color filters to make their videos stand out.