How to Change the Bluetooth Codec on Your Android Device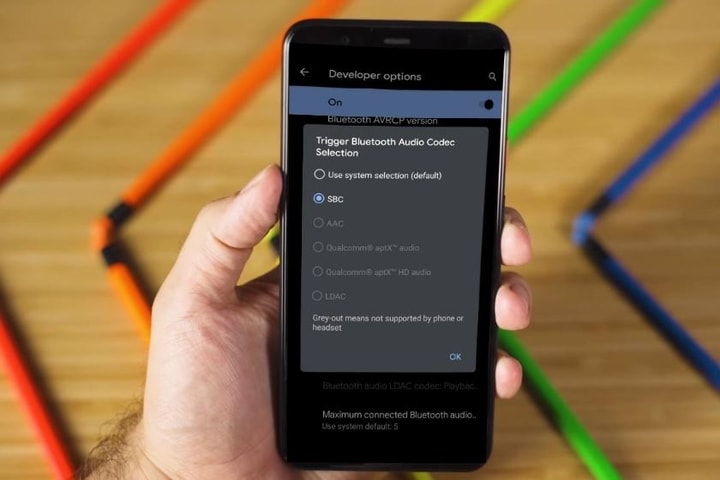 Bluetooth technology can be used with different audio codecs that impact the quality of the sound and its transmission. We explain the most used and how to change the codec on an Android mobile.
The progressive disappearance of the 3.5 mm jack connector in mobile phones brings us closer to a future in which all the headphones we use with our phones will be irremediably wireless. Therefore, it is good to know that our phones can use a variety of Bluetooth codecs and that the experience will be better or worse depending on which one is chosen.
A Bluetooth audio codec is an algorithm responsible for compressing, encoding and decoding it into data packets transmitted over the wireless connection. It would help if you remembered that to take advantage of a specific codec, the phone and the Bluetooth speaker or headset must support it. These are the most common Bluetooth codecs.
SBC (low-complexity SubBand Codec)
The first of all, created in 1993, and the most widespread. All Bluetooth devices support SBC, which requires very little computing power, and supports mono and stereo audio, sample rates up to 48 kHz, a maximum bitrate of 328 kbps, and significant latency between 100 and 150 ms. The latter does not have much importance when listening to music, but it does when watching a movie where the delay with the image becomes evident and annoying.
AAC (Advanced Audio Coding)
Created in 1997 and used primarily by Apple, AAC offers multichannel sound and better audio quality than its predecessor at the same bitrate but suffers from the same latency issues as SBC and is criticized for its high power consumption compared to others. Its sample rate reaches 96 kHz, and its bit rate is 448 kbps.
aptX, aptX LL, aptX HD y aptX Adaptive (audio processing technology)
Also known as Qualcomm aptX after the purchase of the CSR company Cambridge Silicon Radio, owner of the codec, by the manufacturer of processors, it offers in all its iterations a better sound quality than the SBC standard but also requires a greater capacity of prosecution.
The LL version stands out for its low latency of 40 milliseconds. HD for its bitrate goes up to 576 kbps compared to 384 in the first version, and Adaptive offers a variable bit rate, instead of constant, of up to 420 kbps and sampling frequency of up to 96 kHz compared to 44.1 and 48 kHz of the older versions. aptX Adaptive latency is 80 milliseconds.
LDAC
Codec, developed by Sony, offers the highest bit rate, 990 kbps, three times higher than SBC, with a sample rate of 96 kHz. Of those that offer the best audio quality.
How to change the Bluetooth audio codec
To access the Bluetooth audio options, you must first enable the developer mode on your Android mobile:
Open Settings on your Android mobile.
Select System and then About phone.
Please scroll down to the Build Number option and tap it seven times to activate developer mode.
Go back one screen to System.
Click Advanced and then Developer Options.
Please scroll down to the Bluetooth Audio Codec option and tap it.
Choose the one that interests you in the window that opens with the list of codecs.