8 Secure Web Browsers for PC 2021 [Updated List]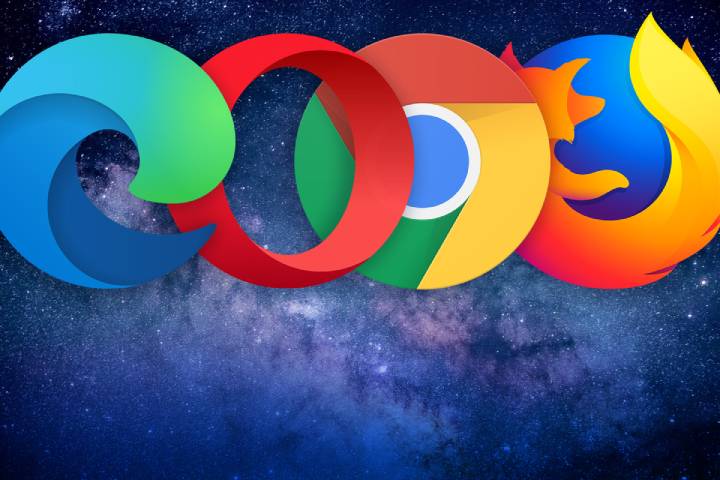 What is the first thing that comes to your mind when you think of the Internet? Some common ideas would be surfing the web for information, researching a particular topic, or even checking your social media. Where do you perform these searches? Obviously on your web browser on your PC. Imagine your operating systems Windows or Mac IOS having no web browsers you will be unable to perform any of the above tasks. In this article, we are going to discuss the best web browsers for your PC for more secure browsing and make it simple for you the users to choose the best one which fits your purpose. Users are looking for generally three fundamental features in a web browser which are speed, privacy, and customization.
1. Google Chrome – Best web browser for PCs
Developed by Google, Google Chrome was first released in the year 2008. Chrome has a worldwide dominant browser market share of 66% as of March 2021. It is the most preferred search engine among users because it includes all the modern features and caters to every need of the user. Let's look at some of its best features:
Pros
Save and Manage Passwords
Autofill Addresses
Bookmarking favorite links
Change color and themes
Secure chrome extensions for a safe web browsing experience
Utilize multiple login features
Gain access to Incognito mode
Despite having most bases covered, there are some cons of Google Chrome which are the following:
Cons
Processes high amount of your computer's RAM (over 2 GB)
This leads to quick battery drainage of your system
Unable to block third party cookies by default
Overall, Google Chrome is still the best browser out there for users; the only major flaw is the high consumption of RAM and battery therefore users require a minimum of 8GB RAM and a durable battery.
2. Safari – World's fastest web browser
The second most popular web browser after Chrome, Safari was developed by the company Apple. Apple claims it is 50% faster than its rival Google Chrome and consumes much lesser battery than most others web browsers. Safari has a relatively much lower browser market share than its main rival Chrome worldwide of just close to 20%.
Advantages
Robust Customization options
Powerful Privacy Options
Increased Performance and improved power efficiency
Disadvantages
Safari's iCloud syncing works solely for Apple devices which can lead to problems for users who use both Android and iPhone products.
You might be interested: Best SEO Extensions for chrome
There is no denying that Google Chrome is the popular choice among users in recent years but in the world of advertising, users demand a sense of privacy and respect from their browser and don't want to be disturbed with a bunch of pop-up ads. Firefox was developed by the Mozilla Foundation and was released in the year 2002. The usage across all platforms for Firefox among users stands at close to 4%. The Firefox browser is the solution as it blocks most trackers and the user can enjoy a seamless experience.
Pros
Browse Faster
Blocks AD Tracking
Balances memory usage
Add Powerful Extensions
Private Browsing
Cons
The major cons of the Firefox browser are it can be a bit slower than its other rivals which can be a major issue because users don't have the patience for slow loading websites. The second disadvantage is the browser has some compatibility issues with certain websites meaning some of the pages are not displayed properly to users.
4. Microsoft Edge – Best web browser for Shopping
The default web browser for Windows 10, Microsoft Edge as the name suggests was developed by Microsoft and released in the year 2015. The global usage of Microsoft Edge across all platforms is at 5%. Some of its best features include:
Advantages
Customize your favorite extensions
Browsing mode for kids
Stay always connected with your Microsoft account
Access PDF Files quickly
Save money while shopping
Disadvantages of Microsoft Edge
The drawbacks are Windows wants it to be your default browser and the web browser is still a work in progress.
A chromium-based web browser Opera Software developed Opera and released it in the year 1995. The global users as of March 2021 stand at a lowly 1.5%. It distinguishes itself from other web browsers through its additional features such as:
Pros
Built-in Free VPN
Integrated Ad-Blocker
The customizable news feed on the start page
Battery saver on the web browser
Cons
The major disadvantage of the web browser is the lack of users compared to the other top 4 web browsers.
A free and open-source browser, Brave Software developed the browser Brave and released it only in the year 2019. In February 2020, a research report found that Brave to be the most private browser in terms of "Phoning home" ahead of major rivals Chrome, Firefox, Safari, and Edge.
Advantages
Browse faster load pages 3x to 6x faster than Chrome and Firefox
Import all of your previous settings from your old browser
Receive Brave Rewards
Brave FireWall + VPN (Paid Feature)
Disadvantages of Brave Browser
The biggest disadvantage of Brave is the lack of extensions and add-ons and some of the extensions are not even compatible with the browser.
This web browser was developed by Vivaldi Technologies and released in the year 2016. The unique features including:
Pros
Tab Management
Adaptive user interface
Faster Navigation with a Bookmark Manager
Cons
The major disadvantage is although you can do countless customizations, the web browser is unstable.
A freeware cloud-based web browser, Maxthon International Ltd developed Maxthon and released it in the year 2002. It has over 670 million users globally. The latest version of MX6 released in November 2020 uses blockchain technology.
The major drawback of this particular web browser is there is no clarity of how the browser collects data and the privacy policies are at best unclear and uninformative.
Conclusion: Which is the best web browser for your PC?
In this article, we have discussed some of the best web browsers for PCs and they are all from reputable software companies which can be trusted. They come with all the modern features and are configured with the latest security measures. Going by statistics, Google Chrome is still your best bet when it comes to choosing the right web browser for you. Which is your favorite web browser among the list we have mentioned? Do, please comment down below your answer and let us know.