Important Technologies used in Inventory Management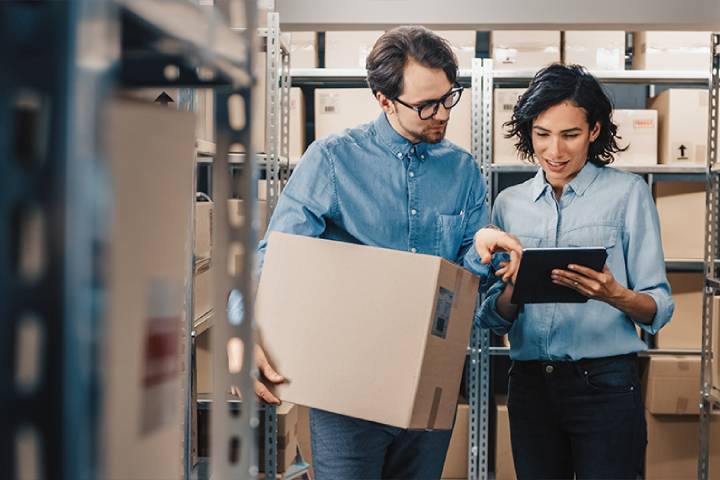 Introduction
Supply chain management represents an important cost for firms and reducing the impact of its on cost is an important issue and is taken very seriously by managers. The development of technologies has changed a lot the way to manage with supply chain whether it is with the new communication, the software created for it, or the automatization. In this article, we talk about the technologies used by companies to improve inventory management.
The emerging new technologies are creating opportunities for companies in the case of inventory management. We decided to choose 3 different technologies which are: RFID (Radio Frequency Identification), EDI (Electronic Data Interchange), and Drones. Those new organizations build competitive advantage in several and different ways including logistics and supply chain. This technology uses specific rules and data encoding to facilitate exchanges.
EDI technology
EDI technology is used to transferring business documents from one computer to another. By using cloud EDI software you can reduce the cost and time of processing because the business documents (invoices, cheque…) are sent electronically. To understand precisely, we will see what are the main difference between EDI and email. Where an email is fully done manually, an EDI message is made by software and analyzed by another one. 
RFID Technology
RFID Technology is an Automatic Identification and Data Capture technology using electromagnetic fields to automatically identify and track tags attached to objects connected to a network system. It is an alternative to "barcodes", directly sending inventory information, via radio waves, to the reader. This technology is used because it saves time and helps to manage better stocks. By 2026, the RFID is expecting a rising of $18,6 billion in the sector.
Drones
Drones invade warehouses with a robotic solution for inventory. Providing live feedback and integration with a database system, it stays a good way to save time. A drone is used to scan and records, through an application, the location of each item in the warehouse.
A drone is fifty times faster than manual capturing. When conducting inventory, staff are traditionally lifted to the high shelves using a forklift, reach truck, or scissor lift, where they manually scan each barcode and pallet. With drones, the company avoids all of the above criteria. Finally, the drone logs information into the drone database and combines it with customer information loaded via Excel or other file types.
How new technologies affected the processes and operations related to inventory management in these companies?
According to our research and study result, EDI or RFID, or other new technologies, are driven by improvements in efficiency and accuracy rate to make the company's inventory management process and operation more streamlined and convenient. In general, these technologies have greatly advanced the business process. The enterprise is transformed from a manpower-based working process to an efficient automated working process, especially to achieve the minimization of labor costs. Each technology has its own way of improving business techniques. RFID will improve the ability of manufacturers to better manage the inventory levels and help the complex tracking and distribution operation; where EDI is again for a faster transaction for real-time documents in the supply chain and a reduction in transaction cost due to paperless operations… But to be more common we will talk here about the accuracy rate and the efficiency.
Accuracy rate
The new technique eliminates errors in manual input from traditional computers and minimizes manual work such as sorting, summarizing, the associated processing and coordination, mailing, and so on. For example, EDI will check the information before the data transmission and it transfers information more accurately and completely than written messages. RFID technology recognition rates achieve 99.9% or more; it has helped to avoid human error.
The efficiency with RFID and Drone (not developed enough yet)
Better efficiency of warehousing and storage: Identifying a product is quicker with an automatic identification with the radio wave used. Making a checklist or an inventory with a drone is even more productive than RFID technologies. Usually, 50 men used to come and check every product in the warehouse, adding the danger (climbing on the top of a scale to see what product is up there due to high column of product) numerous are the accident during the inventory check. A drone can make the work of 50 persons by itself fifty percent faster without any risk.
Operations are more convenient: Just put the goods within the scope of recognition, you can read their information directly. A person and/or a machine can get all product information of a region or a category, people do not have to hold each item to take an inventory count. Without forgetting the paperless operations which is more convenient for everybody.
Improvements in inventory management companies reported due to the use of technology
The information technologies induce real improvement for inventory management. The RFID barcodes put on products or packages give the firm access to a lot of information about the product: the volume, weight, size, and prices. The information gathered with this technology gives the firm the ability to have real-time information about the stocks. RFID barcodes can give all the necessary information to know about the product without even opening it and companies can reduce their time and money spent on inventory management. Companies benefit as the state of the stock is automatically updated.
Also, other firms working with the enterprise using this technology can receive information about the stocks and forecast the firm's needs. This permits two things: important savings due to the time need to contact the other firm and take command, but this is also a guarantee that there will never any products missing due to inventory problems. Therefore, the RFID provides better, faster, and more efficient inventory management.
Conclusion
An overall view shows us the use of technologies in the supply chain, we save time and improve efficiency. Indeed, communication has been accelerated and management simpler due to the software created for it.