How to Use a Tablet or Phone as a Second Monitor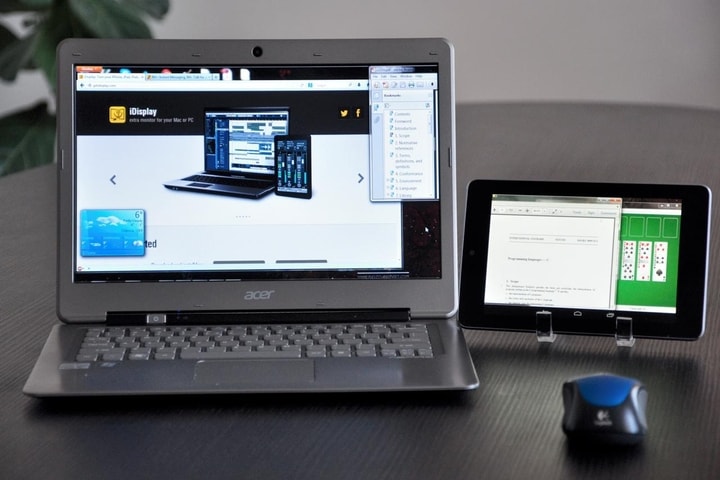 Would you like a second screen with which to expand your workspace? You already have it and it is very easy to use it together with your Windows or Mac computer.
If your computer is your work tool, it is likely that you will miss more space to locate windows with documents, web pages, or the applications that you use in your usual work. 
Before replacing your current monitor with a larger one or buying a second screen, you have a very simple and effective way to improve your productivity and expand your workspace without having to incur any extra expenses and taking advantage of devices you already own.
Your "tablet" or mobile, both Android and iOS, can easily become a second screen and function as an extension of your desktop in which you can host one or more windows with which you work and unburden the main one without losing sight of them. 
There are several "apps" that give you this functionality, but we are going to focus on SpaceDesk because of its ease of use and because it does not require you to physically connect your mobile phone or "tablet" to your computer via USB cable, as happens with others. Of course, it is a requirement that all devices are connected to the same Wi-Fi network.
Once SpaceDesk is installed on the devices you are going to use, you must follow these simple steps:
1. Start SpaceDesk (server) on your computer.
2. Start SpaceDesk (client) on your mobile, tablet or second computer.
3. In the "app" for a client, a message appears indicating where you can download SpaceDesk Windows Driver, which is what the developer DatronicSoft calls the server version of the application. That step is already done, so click OK to close it.
4. The "app" will already be showing the equipment to which it can connect, your PC, along with its IP address. Click on " Connection: (IP of your computer) ".
You already have the main screen extended to the secondary one. If you want to modify any parameter such as the resolution at which it is displayed or change its position relative to the main one, you must do it from the computer with SpaceDesk as the server.
5. Right-click on the SpaceDesk icon in the notification area next to the Windows clock and calendar.
6. Select Windows Display Control Panel which will take you to display settings in Windows settings.
7. Here you can choose if you want the screens to work in an extended way, setting up an extended Windows desktop, mirroring them, and arranging them in the way that is most practical for you. 
That is, Windows works as if the secondary screen were located to the right of the main one, to the left, above, or below. You can also modify the resolution here and choose between the native one offered by the device or a scaled one.
SpaceDesk does not limit the number of devices with which you can extend or duplicate the main screen, it is free and allows you to work exactly the same as with a second monitor connected to your computer. Better yet, on the "tablet" or mobile you can take advantage of its touch capacity as well.
The main limitation of SpaceDesk is that the server version of the program is only available for Windows and Apple devices can only be used as a client. 
If you want a display extension app with support for Mac too, you can use Splashtop Wired XDisplay or Duet Display, but keep in mind that both are paid. SpaceDesk has more than a million downloads in the PlayStore and a score of four out of five from thirteen thousand ratings.